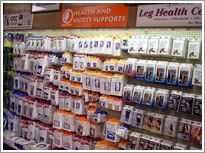 Cleburne Drug stands ready to help you with your needs for durable medical equipment. We carry many items at our location and have daily access to many other products that you may require.
The following list contains some of the items that we carry:
Nebulizers and/or medications for nebulizers
Nebulizer accessories
Blood pressure monitors and stethoscopes
Canes and crutches
Bath and shower seats
Thermophore heating pads
Support hose and socks
Braces and supports of all types
Spenco products for foot comfort and care
This is not a complete list, so if you have questions please give us a call and talk to one of our friendly staff.
Some of these items may be billed to Texas Medicaid and/or Medicare under certain circumstances. Please call for specific information about these products.